MODI®and MOFI® assets
We offer a wide range of mobile deionisation assets to suit you specific requirements. The assets are available as trailer-mounted or free-standing skid mounted pressure vessels.
MODI® 15000T® and 9000T provides two streams of mobile cation/anion/mixed-bed ion exchange technology housed within an insulated trailer. The streams can be configured in duty/standby or duty/duty operation according to your flow requirements, giving the flexibility to produce treated water between 20 – 150 m³/hr and 5 – 85 m³/hr  respectively with a purity of <0.1µScm, <20 ppb SiO2.
Standard Features
Flow rate up to 150m³/hr
Zero discharge
Off-site regeneration
Plug-and-Play
Hoses and accessories
---
MOFI® and MUSE® technologies are extremely versatile ion exchange systems.  The MOFIs are available in carbon or stainless steel, and the MUSE are polyamide.
These skid mounted pressure vessel can be utilised with different ion-exchange resins to meet a variety of applications. They are able to be used within high or low temperature applications in a flexible, fast and efficient manner without the use of onsite chemicals.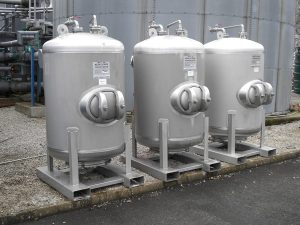 Standard Features
     Up to 80m³/hr
     Multimedia
     Zero Discharge
    Inside or external operation
    Off-site regeneration
    Hoses and accessories